Creativity in the elderly care sector
Horizon was a project aiming to create cross sector meetings between art, culture and workplaces within the public sector. This was achieved by having three artists, who during 10 months each, led artistic processes together with staff and residents at three different nursing homes, in three municipalities of the Borås region: Herrljunga, Mark and Vårgårda.
The artists were Kiriaki Christoforidis (Mark), Stina Hedberg (Vårgårda) and Erik Lundin (Herrljunga).

The project aimed to, through the presence of the artists:
Explore the concept of activities and pave possible ways for new types of activities for the elderly;
Strengthen the staff's own creativity at work, to find new ways of life fulfilment for the elderly;
Facilitate a way to deepen the discussion about and develop critical issues that are important to the three nursing homes and may also be relevant for other elderly care facilities in the region.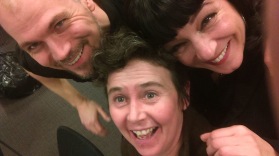 Erik Lundin, Stina Hedberg och Kiriaki Christoforidis, artists in Horisont.