- laughing in the face of fear
Borderline Offensive – art, integration, humour!
TILLT leads the project Borderline Offensive during a 3 ½ year period. The project aims to challenge ignorance, fear and prejudice by creating meetings between migrants and established Europeans. The common denominator in the project is working with artists as creative motors.
Project partners are eleven organizations in eleven countries in Europe and the Middle East/North Africa.
What is happening in the project?
In 2018 five artist residencies were completed in Sweden, Bulgaria Serbia, Slovakia and the Netherlands.

During the residencies the artists have exchanged knowledge about artistic methods with each other, held inter cultural workshops for established and newly arrived citizens and time to work with their own art works.

After the residency each artists was given the task to come up with suggestions for artistic expressions to tour Europe in 2019, returning to the target groups once more.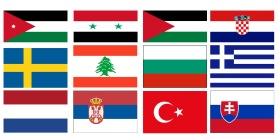 A short description of TILLT's project Borderline Offensive with English subtitles.
Copyright The Region of Västra Götaland.
During 2019 four art projects created in Borderline Offensive will tour Europe, including Sweden. TILLT will cooperate with local and regional cultural actors to receive the projects and contribute to the social and cultural development in the Västra Götaland Region.
To read more about each project, please go to the online portfolio at http://borderlineoffensive.eu/portfolio
Read more about Borderline Offensive here.

The four projects are:
3 Migrants on a Boat, by Petko Dourmana from Bulgaria. A site specific installation where scenes from Jerome K. Jeromes comedic novel "Three men in a boat" is played out in the dark. The audience becomes border patrol officers, with infrared image enhancers.
Migration Road Fazine, by Darinka Pop-Mitić from Serbia and Nalan Yırtmaç from Turkey: A fanzine made by migrants for migrants, containing collage, literature, images, comic strips to give them their own voice, and share adventures.
Museum of Real History, by Abduljabbar Alsuhili from Sweden, Ivana Satekova from Slovakia och Omar abi Azar from Lebanon: a contemporary art exhibition where crazy populist conspiracy theories are "confirmed" to insult our collective intelligence.
Paper Puppet Poetry, by ŠKART collective, from Serbia: a DIY concept for children and young audiences, where the participants make paper puppets, write the script and the stories and perform for each other.
The following artists were recruited during the residencies:
Residency in Bulgaria
FYTA (Greece/Serbia)
Gergana Dimitrova (Bulgaria)
Güneş Terkol (Turkey)
Veera Suvalo Grimberg (Sweden)

Residency in The Netherlands
Grendel Games (The Netherlands)
Peter Gonda (Slovakia)
Petko Dourmana (Bulgaria)
Salam Al Hassan (Syria)

Residency in Serbia
Dara Pop-Mitic & Svebor Midžic (Serbia)
Linda Wardal (Sweden)
Nalan Yırtmaç (The world)
Zen Roorda (The Netherlands)

Residency in Slovakia
Dragan Protic/SKART (Serbia)
Khaled Jarrar (Palestine)
Peter Kociš (Slovakia)
Sytze Schalk (The Netherlands)

Residens i Sweden
Abduljabbar Alsuhili (Sweden)
Destructive Creation (Bulgaria)
Ivana Šáteková (Slovakia)
Zoukak Cultural Association (Lebanon)
A brief documentation from the artist residence in Sweden, conducted in collaboration with the Nordic Watercolor Museum. The film is made by Anna Hulth.
Pictures of the project kick-off in Gabrovo, Bulgaria October 2017.
All photos by: Borderline Offensive, Ivan-Aleksandyr Kjutev, Silvia Cherkezova and TILLT.