What does the municipality's DNA taste like?
During two years time, two different, but intertwined projects were completed in Ale municipality.
A 24 hour innovation lab in Ale municipality between 12:00 and 12:00, on the 3-4 October, 2013.
The question for the lab was: How do we bloom where we are planted? | What is the core of Ale? | What is the DNA of Ale? | How can we strengthen and define Ale's DNA?
The questions are to support the vision of creating "Destination Ale" – an attractive municipality to live in, work in and visit.

The innovation lab was produced with support from KiiCS (Knowledge Incubation in Innovation and Creation for Science), within the program FP7, funded by the European Union.
Artist: Ulrika Jansson.
A project spanning 18 months, with the challenge of creating attraction to live, work and visit Ale.
WebFab Ale An incubator in Ale municipality in web commerce:
Why? To strengthen Ales self image, create new jobs and new business opportunities, use empty premises and offer the existing companies in Ale a web shop.
How? Through a competition the 10 best ideas were chosen. The creators received free work space, aid building a website, ranking, logistics, workshops, process management, a mentor and funding for 12 months.
Artist: Henrik Wallgren.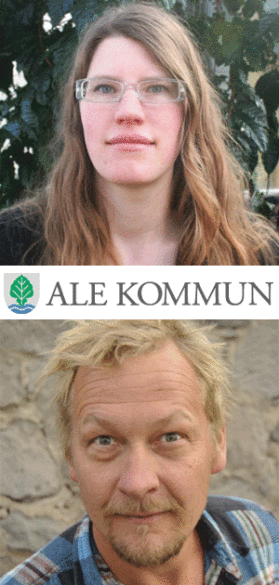 Ulrika Jansson och Henrik Wallgren, konstnärer.