Film: Jonas Nyström and Jeanette Frank
four artists interpret rain
In connection with four cities in Sweden 2021 turning 400 years old, the collaborative project AiR 4 × 400 was carried out. The project consisted of four artist residences, ie that artists were given the opportunity to live and work in a different environment for a limited time, one in each city.
The four cities had different themes or artist materials: Luleå steel, in Piteå snow and in Borås Textile. In Gothenburg, the theme was rain, and the four artists created their works in a cube that was 3x3x3 meters and placed in Biskopsgården during Gothenburg's birthday week 31 May-5 June 2021.
The artists who worked and exhibited in Gothenburg were the visual artist Amanda Mendiant, Piteå, the sculptor Odysseas Pappas, Borås, the dancer Jenny Schinkler, Luleå and the musician Johan Björklund, Gothenburg.
Foto: Jonas Nyström och Jeanette Frank
The Gothenburg residence AiR 4 × 400 was a collaboration between Gothenburg & Co, TILLT and Rain Gothenburg. It was part of Gothenburg's 400th anniversary where TILLT led the project and process and Rain Gothenburg was responsible for artistic advice and inspiration about rain. The Resource Center for Art and the Art Consultant in the Norrbotten region, Piteå municipality and Textile Fashion Center, Borås, also participated in the project as a whole.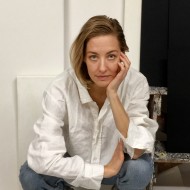 Amanda Mendiant is a French-Swedish visual artist living in Piteå. For the past 20 years, she has worked as a visual artist, illustrator, guest lecturer in illustration and artistic techniques. She now also freelances as an art director and is challenged to work with various artistic expressions. Amanda's images have always revolved around the woman, in tune with her own development. Quiet portraits where presence and volumes required space and space in the rooms.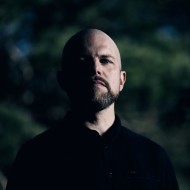 Johan Björklund is a musician (drums / percussion), composer, project manager, educator and artistic coach from Gothenburg. He has made himself known as a leader / member / driving force in a variety of music groups such as Thymeshift, Monochromatics, Dynamic Flavors, Parallel Activity, Mess, Celso Paco & Dynamo De Luxe. Johan is extremely interested in electronic music creation, field recordings, broken radios and making music with non-traditional instruments / scrap and other things that generate sound.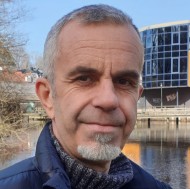 Odysseas Pappas lives and works in Borås, as a sculptor and interior designer since 2016. He is a professional artist educated at the Academy of Fine Arts Tirana and has 29 years of experience in art. Odysseas received Sweden's largest work scholarship for sculptors, Bohusläns Stenstipendium, 2018. He loves to express himself through the power of form and movement, with the ultimate goal of conveying his artwork's message without using words and explanations.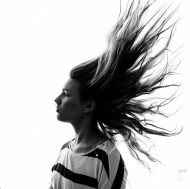 Jenny Schinkler is a trained dancer who is also a stage artist or performer. She trained in Germany and then continued to operate outside Sweden's borders for eight years. Until three years ago when she moved home to Luleå. Jenny has accepted the challenge to express herself more in solo performance. During the week in Gothenburg, she explored the eternal cycle, circular consumption ideology, philosophical fads and the inherent beauty of water.